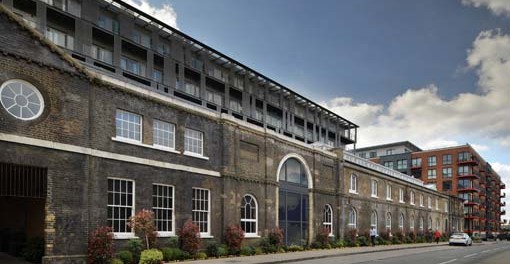 BREEAM Domestic Refurbishment 'Excellent' rating successfully achieved at a Listed Building for Royal Arsenal Riverside for Berkeley Homes
We were appointed by Berkeley Homes to provide advice and guidance to improve the sustainability of Building 10, while assessing it under BREEAM Domestic Refurbishment.
Building 10, the Former New Carriage Store is a Grade II Listed building being converted into residential dwellings. Due to the Grade II Listed Status there were restrictions as to the renovations and improvements that could be carried out: the existing single glazed windows had to be retained, along with the external wall, as any alterations could damage not only the original internal fabric but also the building's character.
The strategy we put in place allowed the dwellings to cost-effectively achieve the required 'Excellent' rating at the Design Stage Certification stage. Some of the requirements set out in our strategy are as follows:-
Improvements to the building fabric – however, there are limitations as to what renovations can be carried out due to the building's Listed Status. The dwellings will be connected to an efficient district heating system which will help to achieve the required mandatory credits;
Compliant ventilation conforming to Section 5 of the Building Regulations Part F in full;
Achieving internal water use of less than 105 litres per person per day;
Designing the dwellings to comply with Inclusive Design principles;
Installing compliant smoke and carbon monoxide detectors and alarms;
Meeting Building Regulations Part E in full;
Carrying out a Flood Risk Assessment;
Ensuring that all timber products will be sustainably sourced and in line with the UK Governments Timber Procurement Policy;
Maintaining good daylighting levels in the kitchen, living and dining room;
Committing to achieving a score equal to or greater than 40 in the Considerate Constructors Scheme.
Image courtesy of Berkeley Group