Acoustic Performance Evaluation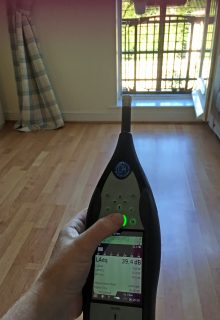 Our holistic approach considers how indoor noise levels can conflict with summertime overheating, thermal comfort and ventilation. We believe that residents should have a comfortable living environment without the need to compromise on either acoustics or thermal comfort. Building Performance Evaluation is essential to ensuring that dwellings are fit for purpose and the feedback can be used to make improvements for future phases and developments.
In addition to Part E sound insulation testing, we measure indoor ambient noise levels at the post construction stage to demonstrate that the design stage targets are met. This is particularly important for developments close to busy roads, railways or airports.
Building Performance Evaluation allows for an analysis of the construction quality of buildings. The information gathered can be used to optimise operational performance, undertake remediation measures where necessary and feedback lessons learnt to future projects. It can be used to demonstrate build quality and to improve performance.