Building Acoustics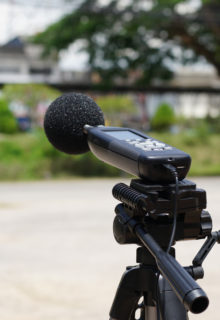 When designing a building it is important to consider the acoustic implications on the building to ensure occupants are not exposed to uncomfortable or unhealthy levels of noise. Such noises can come from external sources, neighbours or plant. Design advice to influence the specification of the building make-up can be provided to achieve the required standards which will consider any potential acoustic nuisance.
More detailed acoustic testing can also be carried out to the requirements of the client, including investigations into the effect the development will have on the surrounding area, and fabric design in areas where noise pollution has the potential to affect the liveability of dwellings.
Post completion testing with a full report of the findings can then be carried out to confirm compliance to relevant standards.
Environmental performance methods such as the BREEAM Domestic and Non-Domestic have sound testing, acoustic performance and reduction of noise pollution included within their assessments which can be considered when carrying out design advise and sound testing carried out in line with the requirements.