Blythe Valley Park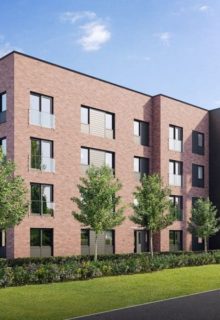 Client: Crest Nicholson Midlands
Location: Shirley, Solihull
Architect: Barton Willmore
Accommodation: Parcel H – 125 new houses and apartment (part of the wider masterplan of c.750 new homes).
Status:  In construction
Our Work: Acoustic, ventilation, overheating and energy advice and strategy
By adopting a collaborative approach, we have ensured that all new homes receive adequate ventilation, are highly energy efficient and are thermally and acoustically comfortable.
We provided an optimal acoustic, ventilation, overheating and energy strategy to ensure a balanced and healthy environment in all new homes. Our strategy included efficient background mechanical ventilation, whilst ensuring homeowners can also naturally ventilate while controlling their exposure to external noise levels.
The Acoustic assessment determined that the BS8233:2014 guidelines the building would meet the required noise levels when calculating the noise reduction from the façade when the double gazed windows are closed. However, although this will meet the desirable acoustic levels this approach hinders the ability for natural ventilation and overheating.
The ventilation and overheating strategy uses openable windows as the primary means of ventilation with background MVHR system running constantly in the apartments and d-MEV in wet rooms and direct air path trickle ventilators to the bedrooms and living rooms to ensure the building will meet the required air flow rates.
Related people
Related services