Former Alfa Laval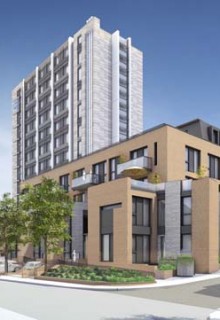 Client: United Living Ltd
Location: Brentford
Architect: Assael Architecture
Accommodation: 69 homes
Status:  Completed
Our Work: Code for Sustainable Homes, SAP, air testing
This project has transformed the site in Brentford where an 11-storey derelict office has stood empty for over 15 years, into a residential scheme comprising 69 new homes. Completing the first phase of the Alfa Laval masterplan in Brentford, the new dwellings line a new street, Baltic Avenue, linking to and complementing the masterplan's future phases and our neighbouring Great West Quarter development.
We worked closely with United Living to ensure that the most appropriate and cost-effective Code for Sustainable Homes credits for this scheme were sought to achieve the required Code Level 3.
In order to exceed the Building Regulations target and achieve the required Code level, we provided energy advice on the fabric energy efficiency specification, CHP and PV requirements. Flats were designed to be heated through the use of CHP, while the houses will have PV installed on their roofs.
Related people
Related services