Hainault Triangle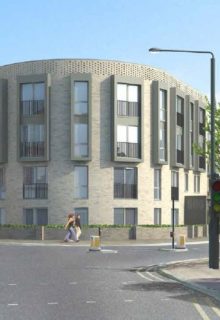 Client:  Ltd
Location: Waltham Forest
Architect: Traer Clark
Accommodation: 148 new dwellings + 337 m2 A1 space
Status: Completed
Our Work: Energy Statement, Sustainability Statement, BREEAM, SBEM, Code for Sustainable Homes and SAPs.
During the planning stages, we helped Bellway Homes (Thames Gateway) Ltd achieve planning consent by developing energy and sustainability strategies to comply with London Plan policies and exceed Building Regulations CO2 reduction targets by at least 35%. The detailed energy strategy included the provision of photovoltaic panels to satisfy a large proportion of the sites' energy demand and energy efficiency measures to support the rest.
Apartments were designed to a Code level 4 standard with sustainable principles and pleasant living in mind, including Lifetime Homes standards, energy efficient lighting throughout, best practice sound insulation and reduced water consumption. The commercial unit on the site was also developed to ensure a BREEAM Very Good rating was achieved.