Hoe Valley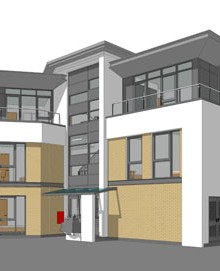 Client: Crest Nicholson
Location: Woking, Surrey
Architect: Scott Brownrigg
Accommodation: 149 homes
Status: Completed
Our Work: Sound testing, air testing, Code for Sustainable Homes, SAP
All homes in this new development are being constructed to meet the Code for Sustainable Homes Level 4, which required a 25% reduction in Regulated CO2 emissions over Building Regulations (2010).
We have been fully involved in the development of technical design to support compliance with Building Regulations and the Code for Sustainable Homes. This involved demonstrating to the council that neither the on-site provision of district heating infrastructure nor a connection to an existing external CHP facility is feasible.
We developed a regulatory compliant energy strategy using electric heating, rather than gas boilers, in flats in order to remove the need for flue runs. The final strategy applied a highly efficient fabric specification, including accredited construction thermal bridging details, and solar PV, to significantly reduce site CO2 emissions.
Related people
Related services
Related news articles