Homes for Lambeth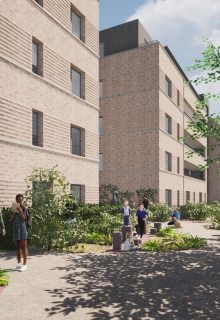 Client: Homes for Lambeth
Location: London Borough of Lambeth
Architect: Various
Accommodation: Residential dwellings
Status: Under construction
Our Work: Energy Advice, Overheating Assessments, Sustainability Statements, Whole Life Cycle Carbon Assessments, Circular Economy Statements
Homes for Lambeth is a housing company wholly owned and created by Lambeth Council. Their purpose is to provide high-quality, sustainable homes, designed with people in mind. The London Borough of Lambeth declared a climate emergency in January 2019 and has committed to ensuring Lambeth is carbon neutral by 2030.
We are working with Homes for Lambeth and a team of architects to ensure that the new homes contribute to achieving this target. Our energy strategy work involves moving away from traditional heating methods to individual and communal air source heat pumps, thereby ensuring the developments are also compliant with the London Plan. The overheating assessments feed closely into our energy work, ensuring that the significant challenge posed by a changing climate and increase in temperatures is addressed.
Homes for Lambeth will be rebuilding existing estates within Lambeth; our Whole Life Cycle Carbon Assessment work identifies the carbon that will be emitted from the estate renewals, considering not only operational and embodied emissions but also demolition, construction and refurbishment/replacement cycles over the life cycle of the buildings. These will support the Council in fully understanding the impacts of estate regeneration on climate change.
Related people
Related services