Noah's Ark Children's Hospice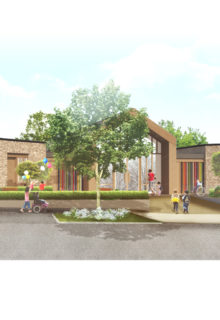 Client: Noah's Ark Children's Hospice
Location: London Borough of Barnet
Architect: Squire and Partners
Accommodation: 2,456m2 new children's hospice (class C2) within a single storey building plus lower ground floor with car parking.
Status: Construction
Our Work: Energy Statement, Sustainability Statement, Energy Advice & SBEM, Lobby Passive Ventilation Strategy & Overheating Risk Assessment
This vital new children's hospice will provide 24/7 care for children with life-limiting or life-threatening conditions. Care services include specialist care, specialist play, bereavement support, family activities and sibling support. We provided energy and sustainability consultancy including an overheating assessment to ensure a high quality, sustainable design was achieved. Liaising with the architect, we proposed a number of passive design measures to be incorporated into the lobby space. Maximizing use of natural ventilation and daylight was important for this building to create a welcoming environment and enhance the wellbeing of staff, patients and their families.
Related people
Related services