Oval Gas Works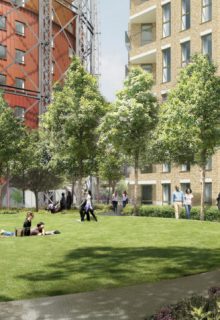 Client: Berkeley Homes (Central London)
Location: London Borough of Lambeth
Architect: GRID Architects
Accommodation: 738 dwellings, office and community center spaces
Status: Ongoing
Our Work: BREEAM, overheating, thermal bridging, energy and sustainability, condensation assessments, SAP, SBEM, WELL.
The high-profile mixed use development comprises of 738 residential units, 10,160 sqm of office space and 147 sqm of community space, and sees the careful restoration of the listed gasholder. We worked very closely with Berkeley Homes (Central London) to provide an integrated energy, sustainability and overheating strategy for the development and are now working on the delivery of these strategies.
Overheating was considered in line with site specific acoustic mitigation measures, ensuring a high-quality, holistic approach was considered. We devised a strategy to ensure thermal comfort in accordance with CIBSE TM59 (2017) requirements, only recently published at the time of our work. Passive strategies were prioritised, including natural ventilation, overshadowing from balconies, reduced glazing g-values and mechanical ventilation with heat recovery (MVHR).
Our Energy Statement prioritised high efficiency fabric with provision of a site wide combined heat and power district heating network, supplemented with photovoltatic panels where appropriate to maximise carbon reductions. This approach is fully compliant with the London Plan Zero Carbon requirements and is both cost-effective and deliverable.
Through the use of specialist software we modelling complex junctions which cost effectively improved the energy efficiency of the building. Our detailed analysis enabled us to achieve the required performance for the half-brick reveal detail, rather than the initial suggested full brick reveal.
We also prepared a Sustainability Statement for the phase, proposing BREEAM Very Good for the non-residential units, extensive soft landscaping to encourage biodiversity, including brown roofs, extensive cycle parking, reduced internal water usage and creation of tree-lined 'green routes'.
Related people
Related services