Royal Arsenal Riverside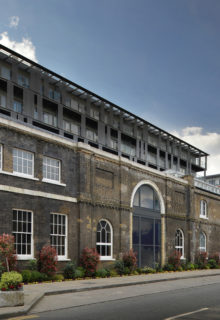 Client: Berkeley Homes East Thames Ltd
Location: Royal Arsenal, Woolwich
Architect: Multiple
Accommodation: 5,000 home mixed-use scheme
Status: Ongoing
Our Work: Energy & sustainability statements, community heating and ESCO advice, Code for Sustainable Homes, BREEAM, BREEAM domestic refurbishment, SBEM & SAP, HQM, building performance evaluation, health impact assessment
We have been involved with Berkeley Homes' Royal Arsenal Riverside development (RAR) in Woolwich for over 10 years and look forward to our continuing involvement with the scheme, ensuring it remains a sustainable community.
Having been in military use for hundreds of years up to 1967, the Royal Arsenal site in Woolwich was largely derelict by the time Berkeley Homes was selected to develop the site into a 5,000 home mixed-use scheme. It is situated near the banks of the River Thames, in the Royal Borough of Greenwich. The new homes are surrounded by new restaurants, bars, retails outlets and leisure facilities, all complemented by a large landscaped waterfront park and riverside walks which come together to create a sustainable new community.
The site is extremely complex and poses a number of unique challenges unusual in residential developments. A particular achievement has been integrating one of the biggest concentrations of listed buildings converted into residential use, with new build elements, and ensuring that all meet high environmental standards.
Related people
Related services