Trent Park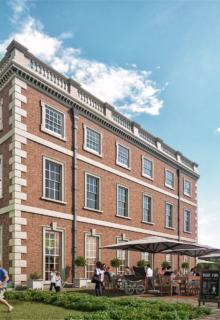 Client: Berkeley Homes (North East London) Ltd
Location: London Borough of Enfield
Architect: ADAM Architecture
Accommodation: 232 flats & houses & refurbishment of a Grade II Listed Mansion House and Stable Block to provide 30 dwellings.
Status: Planning Consented
Our Work: Overheating, SAP, SBEM, energy and sustainability statement
We developed multiple energy strategies to cater for the bespoke nature of the refurbished buildings with care taken to ensure that the character of the listed buildings was not diminished.
The energy strategy proposed for the new build elements aimed to prioritise energy efficiency, whilst also maintaining thermal comfort in summer months using passive design measures to avoid overheating. Solar Photovoltaic (PV) panels were specified at low angles for areas of flat roofs, whilst PV tiles were specified for pitched roof areas in order to minimise visual impact.
For the refurbished buildings, bespoke energy strategies were developed to enable highly efficient dwellings to be designed without the need for intrusive work.
Related people
Related services
Related news articles