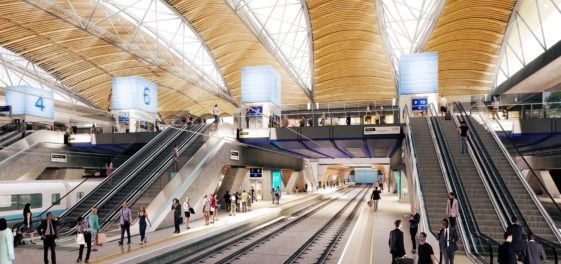 Costain Skanska Joint Venture (CSJV) have appointed Hodkinson Consultancy as  the High Speed 2 (HS2) BREEAM Infrastructure Assessor and Sustainability Champion for the Enabling Works Package for Phase One, Area South (Parts 1 and 2). This is the area of the project that runs from London Euston to Ickenham. As well as CSJV, we are working closely with Schofield Lothian to deliver this service.
To ensure the infrastructure is designed and constructed to a high standard, HS2 is working with the Building Research Establishment (BRE) to further develop the BREEAM Infrastructure assessment scheme. For the stations, depots and infrastructure a minimum BREEAM rating of 'Excellent' with endeavours for Outstanding is being sought. To monitor the commitments made within the Sustainability Policy created by HS2 the design and construction of all stations and depots are being assessed using a bespoke BREEAM method.
As a result of the BREEAM assessment the enabling works will have their materials procurement and waste management heavily scrutinised in addition to a number of other credits.
HS2 is a proposed infrastructure project to build a high-speed rail line from London to Manchester and Leeds, via Birmingham, to begin operation in 2026 and be completed in 2033. The multi-billion pound project is split into three phrases:
Phase 1 from London Euston to Birmingham Curzon Street and Lichfield with intermediate stations in West London (at old Oak Common) and at Birmingham Airport;
Phase 2a from the West Midlands to Crewe; and
Phase 2b comprising an eastern leg from the West Midlands to Leeds New Lane with intermediate stations in the East Midlands and South Yorkshire; and a western leg from Crewe to Manchester with an intermediate station at Manchester Airport.