Our Specialists Present on Post Occupancy Acoustics, Ventilation and Overheating at CIBSE Technical Symposium and IOA Conference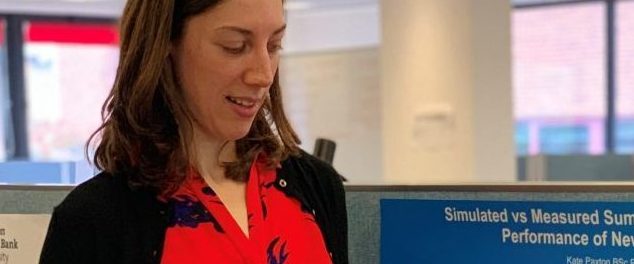 Our Building Performance Evaluation Specialist Kate Paxton and our Acoustic Specialist Kim Coleman each presented the findings of their individual research projects at the recent CIBSE Technical Symposium and IOA Acoustic Conference, respectively.
Kate has undertaken detailed research into the 'performance gap' of simulated versus measured summertime thermal comfort performance of new build dwellings in London. Her presentation to CIBSE delegates described how the results of a post occupancy evaluation of seven homes demonstrated that they performed better in reality with regards to summertime overheating, compared to the predictions of the computer simulation. These findings are integral to ensuring that appropriate strategies are implemented at the design stage, without over-specifying mitigation measures. Further work is needed to understand how occupant behaviour impacts building performance. We continue to carry out building performance evaluations for a variety of sites in order to close the performance gap and improve the feedback loop.
Kim's presentation to IOA delegates was on a related topic. Her research into the post occupancy perception of acoustics, ventilation and overheating in residential dwellings found that occupants were resigned to high noise levels in order to achieve better thermal comfort. They opened their windows on hot days with the aim of cooling down the home, despite being subjected to noise from a nearby road and railway. The occupants of all of the assessed dwellings had to compromise on either acoustics or thermal comfort. This demonstrates the need to consider a holistic approach to ensure a comfortable living environment.