Kidbrooke Village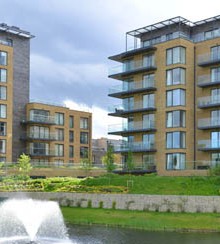 Client: Berkeley Homes East Thames Ltd
Location: Greenwich
Architect: Multiple
Accommodation: 5,000 home mixed-use scheme
Status: Ongoing
Our Work: Energy & sustainability statements, community heating and ESCO advice, Code for Sustainable Homes, BREEAM, SBEM, SAP, district heating advice, overheating, façade optimization, building performance evaluation, surface condensation, health impact assessment (HIA)
The regeneration of the 1960s Ferrier Estate in Greenwich into Kidbrooke Village, will provide a new community for London comprising up to 5,000 homes, and substantial commercial areas in the village centre.
As a strategic regeneration site aiming to meet high standards of sustainable design and construction, there was a desire for a site-wide heat network. Working with Berkeley Homes' planning and technical teams we helped derive a technically robust strategy that balanced the Council's desire for a single heat network with the client requirement for phasing flexibility, which would not be possible with a single central energy centre.
To ensure that the planning commitment is delivered we prepared a District Heating Masterplan & Design Code that set down strategic design parameters that each of the multiple phases must be constructed to comply. This will maximise operational efficiency, ensure the network is fit for the future, minimising both CO2 emissions and resident heat bills.
We have also undertaken monitoring of internal temperature and relative humidity within to determine thermal comfort levels within the communal corridors and to understand the extent of overheating, this is being done over a 12-month period.
Related people
Related services
Related news articles